Friends of the DevilBear: Fan Girl Tour Diary – Nightmare After Christmas Tour
Take a trip on the Nightmare After Christmas Tour with A7X fan yOyOSuicide.
My Nightmare after Christmas began with a 5hr drive to Cincinnati.
…
I loaded myself in the car along with my homemade Avenged outfit, my brand new black furries, my platform shoes, and started making my way to Ohio the day before the gig. The next morn I woke bright and early and met up with my friends in their hotel room. We rolled down to the venue around 9, luckily the weather wasn't that cold and the wait for doors wasn't all that bad. The venue let us charge the doors around four and we got to the barricade no problem with a 2hr wait ahead of us before the show started.
I was excited to see Hollywood Undead, after seeing them open up for Papa Roach in 2010. they really set the show off, and even though most of the crowd was pretty tame the whole concert, I was rocking out their whole set 😉 next up was Stone Sour who I checked out on UPROAR, they were great but I couldn't wait for A7X who were playing next.
It seems to take ages for them to set up but before I know it the lights go out, that black cloth drops, and Avenged Sevenfold take the stage 🙂 and this show was instantly better than any of the UPROAR shows that I hit.

There was a completely different energy going through that venue. It just seemed like the guys were having more fun up there…like old times 🙂
After the show we waited by the buses and got a chance to meet some of Hollywood Undead and M Shadows. (see photo left)
——
The next day was A7X in Evansville IN. all the bands seemed to be a little bit more energetic this time around, time seemed to go by faster at this show and before I knew it A7X was up. The guys were on fire and I had an amazing time, even got some set lists.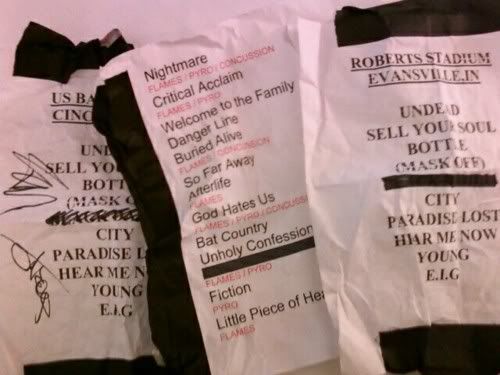 I also checked out the two A7X shows in Michigan a week later. Kellogg Arena in Battle Creek is a nice little venue, but A7X had played there a few years ago and it had been one of the most brutal pits I've ever been in….this time was no different. Even before New Medicine came on things were getting *cozy*. But the crowd didn't get insane until Hollywood Undead came on.
By the time A7X got on the crowd had gotten almost unbearable. I even considered getting out of a mosh pit but as soon as the boys took the stage, I knew I wasn't going anywhere. No matter how many times I see these guys they never cease to entertain and amaze me. The show never gets old and you are always guaranteed one of the best rock shows of your life.
The next day was my last show at the Palace of Auburn Hills. It was a great show to end my Nightmare after Christmas experience. I got a drumstick from Arin and after the show we met him, Matt, and Johnny by the buses. One of the best A7X tours I've even been to for sure.
Check out more of the fabulousYoYo's photography and tour antics here >>